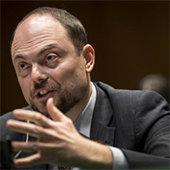 Vladimir Kara-Murza: Putin and the Struggle for Free Expression in Russia
October 23, 2020
On Tuesday, November 10, 2020, Vladimir Kara-Murza discussed "Putin and the Struggle for Free Expression in Russia" through an online talk with Northwestern students and faculty.
Vladimir Kara-Murza is a Russian democracy activist, politician, author, and filmmaker. He was a longtime colleague of Russian opposition leader Boris Nemtsov. Twice, in 2015 and 2017, Kara-Murza was poisoned with an unknown substance and left in a coma; the attempts on his life were widely viewed as politically motivated. Currently, he is a vice president of the Free Russia Foundation and a senior fellow at the Raoul Wallenberg Centre for Human Rights. 
This event was sponsored by the Russian, Eurasian, and East European Studies (REEES) Research Program.