Slavic Department Student Grants and Awards
Click here for list of past winners of departmental grants and awards.
Grants and awards:
The Radulovacki Slavic Studies Fund is used to support travel for graduate and/or undergraduate students to Slavic countries for the purpose of studying Slavic culture, literature and/or language, with a preference for students studying Russian culture, literature, and/or language.
Past winners
2021-2022 Radulovacki Slavic Studies Fund

Alisher Juzgenbayev is a first-year JD/Ph.D. student at Northwestern's Pritzker School of Law and Political Science Department. He studies comparative law and politics in countries of the Former Soviet Union. He is interested in the relationships between politicians, judges, and the legal profession in Ukraine, where he also plans to conduct field research.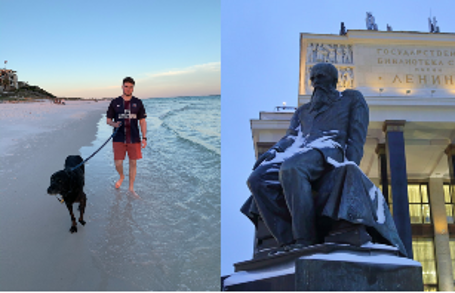 Robby Jacobson is a fourth-year student studying Russian Language, Literature, and Culture at Northwestern. He has always been interested in Russia and loves how the program's flexibility allows him to take relevant classes on varying subjects. He is especially interested in Russian history, literature, and language and looks forward to improving his Russian while in Moscow.
2021-2022 Irwin Weil Award
Martin Herrmann
Andrew Thomas
2020-2021 Radulovacki Slavic Studies Fund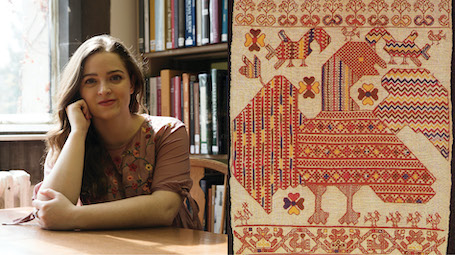 Sydney Matrisciano graduated from the Mississippi School for Mathematics and Science prior to attending Northwestern University as a Questbridge Scholar. While there, she began studying Russian under the tutelage of Margaret Henry, a fellow Northwestern alumna. Sydney participated in the 2017 National Security Languages Initiative for Youth in Moldova to further her study of Russian, as well as the 2017 Olympiad of Spoken Russian in Moscow, Russia. Her interest in Russian is rooted in a deep appreciation of the cultural contributions of the Russian people and a desire to foster connections for mutual exchange. Sydney's research interests include memoriality, place-making, and cultural histories of embroidery. 
2020-2021 Irwin Weil Award
2019-2020 Radulovacki Slavic Studies Fund
Slavic major Emily Andrey was the first recipient of the Radulovacki Slavic Studies Award for her study in St. Petersburg, Russia, September 3-24, 2019. She participated in the International Summer School program, "The Topography of Imperial Power: The Political and Cultural Space of St. Petersburg," at the Higher School of Economics (HSE). Emily, a double major in Slavic Languages and Literatures and Art History, with a minor in Chemistry, noted, "This program is a unique intersection of culture and politics that reflects my double major and my interests in art and social/political spaces." Emily has received a Fulbright to teach in Russia, and is a 2020 NU graduate. Congratulations, Emily!
2019-2020 Irwin Weil Award
Back to top