Elisabeth Elliott
Professor of Instruction; Affiliate, Department of Linguistics
Ph.D., University of Toronto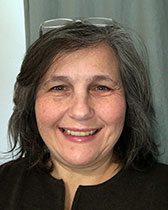 (847) 491-8082
1880 Campus Dr., Kresge Hall, Suite 3305 (Office 3226), Evanston, IL 60208
Office Hours: Tuesday 11:30am–12:30pm, Thursday 3:30pm–4:30pm
Elisabeth Elliott received her Ph.D. in Slavic Linguistics from the University of Toronto and she is the Coordinator of Slavic languages. Dr. Elliott teaches language and linguistic courses in both the Slavic Department and the Department of Linguistics. 

Research Interests:
Slavic linguistics and pedagogy
Russian, Macedonian, Bulgarian, and Turkish languages and dialects
Balkan Sprachbund
Structure of Russian and other Slavic languages
Language, identity, and nationalism
Semantics and Slavic typology of tense and aspect
Dialectology 
Current projects:
"Flipped Яussian": a Digital Humanities project to create and implement a hybrid/blended and flipped first-year Russian curriculum for SLAVIC 101-1, -2, -3 Elementary Russian. The team working on "Flipped Яussian" includes Slavic's Senior Lecturer Natalia Malinina, Slavic alum Carmen Finashina, Ph.D., the Multimedia Learning Center (MMLC), Canvas at Northwestern, and an external consultant, Professor Fernando Rubio, Associate Professor of Spanish, Adjunct Associate Professor of Linguistics, and Co-Director of the Second Language Teaching and Research Center at the University of Utah (a leader in flipped foreign language classrooms and foreign language MOOCs). 
Russian Intercultural Dictionary: an online visual dictionary of Russian to use to learn the cultural and vocabulary of the first-year Russian curriculum. It's all about planting seeds in Third Places. http://web.madstudio.northwestern.edu/mmlc_projects/russian-intercultural-dictionary/
The Northwestern Dictionary Project: A Digital Humanities project where students in LING 363/SLAVIC 322 Making a Dictionary: The Northwestern Project lead, create, and design a digital, online Northwestern Dictionary learning along the way a bit about lexicography, leading and working in groups, and gaining digital literacy.
https://nudictionary.mmlc.northwestern.edu/
Macedonian Verb Book: I am collaborating with colleague Dr. Biljana Belamaric-Wilsey, Linguist Analyst at SAS and founder and director of the Macedonian Language E-Learning Center (MLEC) and Northwestern undergraduate student Aleks K. on writing and e-publishing the first Macedonian Verb Book for learners of Macedonian.

The historical imperative as a Balkanism: use of the 2nd person singular imperative for 1st and 3rd persons past tense narration in Albanian, Bulgarian, Greek, Romanian, Macedonian, and former Serbo-Croatian.
Structure of Russian for teachers of Russian: the key elements in the structure of Russian to help teach Russian.
Recent courses taught:
Slavic 101-1,2,3 Elementary Russian
Slavic 203-1,2,3 Russian Language and Culture
Slavic 405 Russian Teaching Seminar
Slavic 341/Linguistics 342: Structure of Modern Russian
Linguistics 221 Language and Prejudice
Linguistics 222 Language, Politics, and Identity
Linguistics 471 Proseminar in Semantics: Slavic tense and aspect

Syllabi:
LING 222-0 Language, Politics, and Identity
LING 470 Proseminar in Semantics: Tense and Aspect in Slavic, Spring 2003
SLAVIC 101-1- 22 Elementary Russian
SLAVIC 102-1- 20 Intermediate Russian
SLAVIC 341 Structure of Russian/LING 342 Structure of Various Languages: Russian, Fall 2002
SLAVIC 405 Russian Teaching Methodologies, Fall 2003
Publications:
2009.  Together with Lisa Yountchi. "Total Physical Response and Mastering Russian Multi- and Unidirectional Verbs of Motion: A Study in Acquisition."  (Special Forum Issue: Teaching and Learning Russian Verbs of Motion).  Slavic and East European Journal (SEEJ), 53(3):428-450.  (Refereed).
2008.  Together with Katherine Bowers.  "Culture as an Underlying Means of Miscommunication: Getting American Students of Russian to Associate Russian Culture with Russian Words."  Proceedings of the conference "Language as a Means of Communication: A Comparison of Russian and American Linguistic and Cultural Ways of Expression" at the Center for American Studies, RGGU, Moscow, Russia/Язык как инструмент понимания и непонимания: русско–американские лингвистические и культурные сопоставления. М.:РГГУ, 2008.347.  February 2008. Pp. 152-165. 
 2007. "The Greatest and Hardest Language.  Myths about the Russian Language: Sociolinguistics and Russian as a Foreign Language in the United States."  Proceedings of the conference "The Myths We Tell about Each Other" at the Center for American Studies, RGGU, Moscow, Russia.  February 2007. 
 2004 "Imam ('Have') plus Past Passive Participle in the Bulgarian Erkech Dialect." University of California International and Area Studies Digital Collection: Volume 2: Revitalizing Bulgarian Dialectology. http://repositories.cdlib.org/uciaspubs/editedvolumes/2/7 . (Refereed).