Natalia Malinina
Senior Lecturer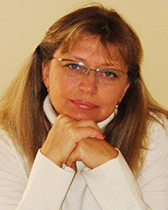 (847) 467-6478
1880 Campus Dr., Kresge Hall, Suite 3305 (Office 3225), Evanston, IL 60208
Office Hours: Monday 2:00pm–4:00pm
Prior to coming to Northwestern University in 1997, Natalia Malinina held a teaching position in the Department of Russian as a Foreign Language at Lomonosov Moscow State University. She worked there for more than 10 years. During that time, she not only taught Russian in Moscow, but also served as a visiting lecturer at Conacry University in Guinea, Africa, for three years.
Education:
Master's majoring in Linguistics, Lomonosov Moscow State University, Russia. Her thesis focused on making the comic aspects of authorial speech in works by Chekhov and Shukshin accessible to a foreign student through commentary. Graduated with honors.
Recent courses taught:
Slavic 101 Elementary Russian
Slavic 102 Intermediate Russian 102
Slavic 303 Advanced Russian 303
Slavic 304 Russian for Advanced and Native Speakers
Awards: 
She was selected for the 2004-2005 and 2005-2006 Faculty Honor Roll, presented by the Northwestern University Associated Student Government.