Gary Saul Morson
Lawrence B. Dumas Professor of the Arts and Humanities; Professor, Slavic Languages and Literatures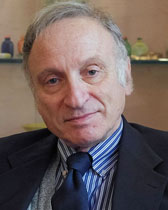 (847) 491-3651
1880 Campus Dr., Kresge Hall, Suite 3305 (Office 3369), Evanston, IL 60208
Research interests:
Saul Morson's work ranges over a variety of areas: literary theory (especially narrative); the history of ideas, both Russian and European; a variety of literary genres (especially satire, utopia, and the novel); and his favorite writers -- Chekhov, Gogol, and, above all, Dostoevsky and Tolstoy. He is especially interested in the relation of literature to philosophy.
Work currently in progress:
Professor Morson typically works on a number of projects at once.  He is working on a study of the Brothers Karamazov.
Selected publications:
Prosaics and other provocations; Empathy, open time, and the novel
The Long and the short of it: From aphorism to novel (top 5 finalist for the Christian Gauss award of Phi Beta Kappa)
Narrative and Freedom: The Shadows of Time
Mikhail Bakhtin: Creation of a Prosaics (co-authored with Caryl Emerson)
Hidden in Plain View: Narrative and Creative Potentials in "War and Peace"
Honors:
Professor Morson has won "best book of the year" awards from the American Comparative Literature Association and the American Association of Teachers of Slavic and East European Languages; he is a member of the American Academy of Arts and Sciences; and he is the only Northwestern professor to have held simultaneously two endowed chairs, one for research and one for teaching.

Courses taught in the last 3 years:
Undergraduate courses on the novels of Dostoevsky and Tolstoy.
Graduate courses devoted to single novels--Anna Karenina, The Brothers Karamazov, War and Peace, and The Idiot--and on Mikhail Bakhtin and on various topics in Russian intellectual history.
Back to top